Lunenburg is known worldwide for its Ship building and Naval training. Maybe because it is the home of the famous schooner ship Bluenose II. Or possibly because of how the town is arranged around the harbour. There are definitely various reasons why boating is big here and you should visit this area during your travels through Nova Scotia.
Lunenburg Ship Building
What you may not know is that Lunenburg is a major ship building and training venue. Although its biggest days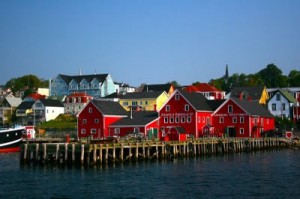 of production may be in the past, it's not uncommon to see wooden schooners being built in the local ship yard like the Dorey Shop for example. You can also get your entire naval training at the local naval school. You can always learn more about the long history at the Fisheries Museum of the Atlantic, run by the government, and located at 68 Bluenose Drive
NS Trails, Camping, and Parks
Lunenburg is the perfect place to visit if you are in Nova Scotia, even if you want nothing to do with the water. Gaff Point is a 7 kilometre trail beginning at Hirtle Beach just outside of Lunenburg on the South Shore of Nova Scotia. Also there are several campsites and RV parks in Lundenburg like little lake family campground.
Boat and other Tours
Not really a go it yourself type of person or just like the views a local can provide? Consider one of the local tour groups. There are biking and kayaking tours. There is also Lunenburg Town Walking Tours was created by Eric Croft. We cant leave out the fact that this is Lunenburg and you can find fishing charters and tours like Lundenburg Ocean Adventures which leaves, the fisheries museum of the atlantic, 68 Bluenose Drive.
Lunenburg Option Conclusion
If you are anywhere near nova scotia, this beautiful town should be on your list of places to visit. Whether you travel by boat, car, bike, or foot, this local has something for us all.
Lunenburg est mondialement connu pour sa construction de navires et de la formation navale.
Peut-être parce que c'est la maison de la célèbre goélette Bluenose II le navire.
Ou peut-être à cause de la façon dont la ville est disposée autour du port.
Il y a certainement diverses raisons pourquoi la navigation de plaisance est grande ici et vous devriez visiter cette région pendant votre voyage à travers la Nouvelle-Écosse.
Construction de navires de Lunenburg
Ce que vous ignoriez est que Lunenburg est un lieu de formation et de construction de grands navires.
Bien que ses plus grands jours de production peuvent être dans le passé, il n'est pas rare de voir des goélettes en bois construites dans le jardin de navire locaux comme la boutique Dorey par exemple.
Vous pouvez également obtenir votre entraînement naval ensemble à l'école navale.
Vous pouvez toujours apprendre plus sur la longue histoire dans le Musée des pêches de l'Atlantique, dirigé par le gouvernement et situé au 68 Bluenose Drive
NS des sentiers, de Camping et des parcs
Lunenburg est l'endroit parfait à visiter si vous êtes en Nouvelle-Écosse, même si vous ne voulez rien à voir avec l'eau.
Gaffe est un sentier de 7 kilomètres commençant à Hirtle Beach juste à l'extérieur de Lunenburg, sur la rive sud de la Nouvelle-Écosse.
Il y a aussi plusieurs terrains de camping et parcs de RV dans Lundenburg comme petit camping familial du lac.
Bateau et autres Tours
Pas vraiment un aller il te type de personne ou tout comme le point de vue local peut fournir ?
Considère comme l'un des groupes locaux de tour.
Il y a vélo et kayak tours.
Il y a aussi Lunenburg ville Walking Tours a été créée par Eric Croft.
Nous ne pouvons pas laisser le fait qu'il s'agit de Lunenburg et vous pouvez trouver des charters de pêche et visites comme Lundenburg Ocean Adventures qui laisse, la Musée des pêches de l'Atlantique, 68 Bluenose Drive.
Lunenburg Option Conclusion
Si vous êtes n'importe où près de la Nouvelle-Écosse, cette belle ville devrait être sur votre liste d'endroits à visiter.
Si vous voyagez par bateau, voiture, vélo ou pied, ce local a quelque chose pour nous tous.