If you are into cars and racing, you have probably heard about or seen the videos from the Targa Newfoundland race. This is a place of rugged beauty and scenery that sets you back in time. The big attraction and point of this story is how some people have been attacking these landscapes with grace and ease since 2002.
The cars on Newfoundland Roads
From humble beginnings, this race held once a year, brings in participants from around the world and vehicles that span decades. For over a decade, the teams have been coming to St. John's Newfoundland for the start of this iconic race. For 5 days and 2,150 km these guys race across street roads and full blast 🙂
Classic division
In this decision, classes are made up by age and level of preparation. Older less prepared cars are given longer times to complete each coarse to keep all cars on a level footing. Every second you are over your time, you receive a penalty point but beat the time and you "clean the stage". At the end, the team with the least points wins.
Modern and Open
Here its a lil different. Each car is assigned the same time, regardless of preparation, on each stage. This division is more popular amoung the younger crowds, where the plus $million dollar is not uncommon
Routes through NL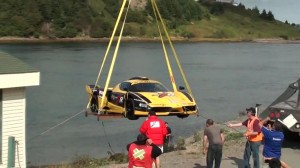 The race covers thousands of miles and days. This starts and stops in the capital city but runs through some of the best views and major towns around. Starting in St. Johns, we go through and often have overnight stops in, Clarenville, Gander, and Marystown.
Targa Conclusion
Some of the drivers go for the slow and stead wins the race approach. Others go for broke and drill every stage as hard as possible. Targa Newfoundland takes 5 days so then winner must endure one way or the other. Closed roads, high speed sections, tight turns, and fast cars, and there is your summary.
Si vous êtes dans les voitures et les courses, vous avez probablement entendu parler ou vu les vidéos de la course Targa Terre-Neuve.
C'est un lieu de beauté sauvage et les paysages qui vous définit dans le temps.
La grande attraction et le point de cette histoire est comment certaines personnes ont été attaquer ces paysages avec grâce et facilité depuis 2002.
Les voitures sur les routes de Terre-Neuve
De modestes débuts, cette course a lieu une fois par an, apporte au participants de partout dans le monde et les véhicules qui s'étendent sur des dizaines d'années.
Pour plus d'une décennie, les équipes viennent à Saint-Jean Terre-Neuve pour le départ de cette course emblématique.
Pour 5 jours et 2 150 km de ces gars la course à travers les routes rues et plein régime 🙂
Dans la présente décision, les classes sont composées par âge et par niveau de préparation.
Plus âgées moins voitures préparées sont données des délais plus longs pour compléter chaque grossier de garder toutes les voitures sur un pied d'un niveau.
Chaque seconde que vous êtes sur votre temps, vous recevez un point de pénalité mais battre le temps et vous « nettoyer la scène ».
À la fin, l'équipe avec le moins de points de victoires.
Moderne et ouverte
Ici ses un lil différent.
Chaque voiture est attribuée le même temps, indépendamment de la préparation, à chaque étape.
Cette division est plus populaire parmis la foule de jeune, où le plus $million de dollars n'est pas rare
Itinéraires par NL
La course couvre des milliers de kilomètres et des jours.
Cela démarre et s'arrête dans la capitale mais traverse certaines des meilleures vues et les principales villes autour.
À partir de St. Johns, nous passer et ont souvent une nuit s'arrête à Clarenville, Gander et Marystown.
Conclusion de Targa
Certains des pilotes vont de la lente et stead remporte l'approche de la course.
D'autres go for broke et percez chaque étape aussi fort que possible.
Targa Newfoundland prend 5 jours donc, puis gagnant doit supporter un sens ou l'autre.
Fermeture de routes, les articles à haute vitesse, virages serrés et des voitures rapides, et il est de votre résumé.