Many people know about pei and its natural beauty . Especially lately with its recent publicity from popular tv shows, talk shows,  and stories. This article covers a little about Charlottetown and specifically the watefront area. This waterfront has been transformed from an empty area with nothing to see, to a bustling tourist center for the island.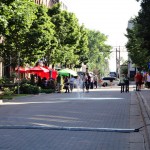 Layout of the waterfront
The waterfront area is mostly situated around water st. There you can find restaurants, stores, and even tours.  Its harbor wouldn't be considered busy by any stretch of the imagination but there can be seen various, cruise ships, yacht and private boats parked up during the summer time.
Across the pond is the town of stratford, arguably one of the fastest growing areas on the island. Victoria Row and other important streets aren't far away.
Things to do in Charlottetown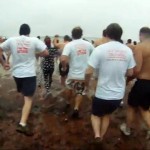 Well there are definitely several things to get into on the Charlottetown waterfront. One famous attraction is the polar bear swim. People come from all over to attempt this plunge in frigged temperatures. Do you have what it takes to join the group and count down with the clock?
Not the daring type? Then consider the, cinema, on of the local restaurants, breweries, or souvenir shops. You could also simply walk around and take in the scenery and historic architecture. This is an island so you should definitely consider on of the water type tours
With 1300 fishermen on the island, the seafood and fish in particular are often on the itinerary of visitors. Also consider trying out some of the famous lobster creations that can be found at many of the restaurants.
PEI Accommodations
Brand new condos have been built up. Even "Penthouse" views for the ones in such a market. For the rest of us, there are a few hotels to choose from. The further away you go from the waterfront, the more options and price ranges you will encounter.
Walking Downtown Conclusion
Whatever your excuse, if you are reading this and need one, you have found it. We here at Maritime Transit recognize the fact that there are thousands of people walking around Charlottetown every summer. With lots to see and do, PEI has really transformed its waterfront into a real tourist attraction that should be considered when planning any trip to the maritimes.
Beaucoup de gens savent sur l'île. 
Surtout ces derniers temps, avec sa publicité récente sur les émissions de télévision populaires. 
Cet article couvre un peu de Charlottetown et plus précisément la région watefront. 
Ce front de mer a été transformée d'une zone vide n'ayant rien à voir, à un centre touristique animé de l'île.
Mise en page
Le secteur riverain est principalement situé autour de l'eau st. 
Il vous pouvez trouver restaurants, magasins et même des visites. 
Son port ne serait pas être considéré comme occupé par tout effort d'imagination, mais on peut voir divers, bateaux de croisière, yacht et bateaux privés stationné jusqu'au cours de l'heure d'été.
À travers l'étang est la ville de stratford, sans doute un des secteurs plus forte croissance sur l'île.
Ligne Victoria et autres rues importantes ne sont pas loin.
Choses à faire
Ainsi, il y a certainement plusieurs choses à faire dans le secteur riverain de Charlottetown. 
Une attraction célèbre est le bain des ours polaires. 
Gens viennent de partout pour tenter cette chute de température frigged. 
Vous avez ce qu'il faut pour se joindre au groupe et compter vers le bas avec l'horloge ?
Pas le type audacieux ? 
Considérons, cinéma, des restaurants locaux, brasseries ou boutiques de souvenirs. 
Vous pouvez aussi simplement marcher et prendre dans le paysage et l'architecture historique. 
C'est une île, donc vous devriez considérer définitivement sur les tournées de type eau
Avec 1300 pêcheurs sur l'île, les fruits de mer et poissons en particulier sont souvent sur l'itinéraire des visiteurs. 
Également envisager d'essayer certaines des créations célèbre homard que l'on retrouve dans plusieurs des restaurants.
Hébergement
Condos neufs ont été construits. 
Vues d'un « Penthouse » même pour celles de ce marché. 
Pour le reste d'entre nous, il y a quelques hôtels au choix. 
Plus loin vous allez partir du front de mer, les plus d'options et vous rencontrerez des fourchettes de prix.