The digby ferry terminal is a popular maritime transit option for individuals in Nova Scotia who wish to travel to New Brunswick. This Ferry takes vehicles and people to and from Saint John, NB on the provinces east side and Digby Nova Scotia on the west side of the province. Whether its the on board meals, or the whales, fish and wildlife, this is definitely an option to consider.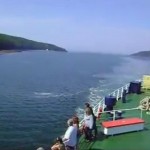 Digby Harbor Setup
The harbor itself isn't the biggest in nova scotia. The parking lot is small and resembles the setup at the yarmouth harbor. The staff speaks both english and french. Maybe because New Brunswick is the only province to require all  provincial services be bilingual. Whatever the reason, you should be taken care of.
The ferry has large open decks that allow for great views coming or leaving from either harbor. The Digby harbor is quite simple with thick trees all around.
The Saint John harbor is of course more built up featuring a view of the downtown area. Then there is an exit through the narrow shipping channel.
Saint John Ferry Journey
As with any ferry, the journey can get bumpy. Although you may assume the peninsula would protect the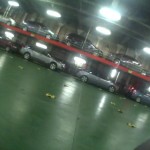 waterways, its actually known for being quite rough. However sea sick you may get, your vehicle will be safely stowed away below.
Parking is through the front bow of the ship. There is staff inside to direct your every move. This is no different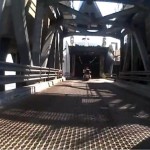 to any other ferry, making sure to keep the ship balanced as everyone enters. Parking is double decked allowing for maximum utilization of the space inside.
Its not uncommon to see people waling their bikes onto the ferry as well as motor cycles and other vehicles. Definitely smart to contact the ferry company if you are worried about limitations.
How To Catch the boat
Prices vary depending on how many people and vehicles. Dates and times of operation also vary depending on the time of year. Times between 9am and 11pm are not uncommon so its a good idea to coordinate with their schedule when purchasing a ticket.
Ferry Terminal Conclusion
Whether going or coming, this is definitely a good option to reduce driving time between nova scotia and new brunswick. If you are headed to moncton, st john or any of the surrounding areas, it can take a while to drive up 101 then around 102 to 104. Yeah take it from someone who has been up 101 enough times, if you have the resources and time, consider this as an option.
Le terminal de traversier de digby est une option populaire de transport maritime pour les personnes en Nouvelle-Écosse qui souhaitent voyager au Nouveau-Brunswick.
Ce Ferry prend des véhicules et des personnes et de Saint John, NB sur le côté est de provinces et de Digby en Nouvelle-Écosse sur le côté ouest de la province.
Si ses le bord des repas, ou les baleines, poissons et la faune, c'est certainement une option à envisager.
Programme d'installation de Digby Harbor
Le port lui-même n'est pas le plus important de la Nouvelle-Écosse.
Le stationnement est petit et ressemble à l'installation sur le port d'yarmouth.
Le personnel parle anglais et français.
Peut-être parce que le Nouveau-Brunswick est la seule province d'exiger que tous les services provinces soient bilingues.
Quelle que soit la raison, vous devez être pris en charge.
Le traversier a grands ponts ouverts qui permettent aux grandes vues arrivant ou quittant un port.
Le port de Digby est assez simple avec des arbres d'épaisseur tout autour.
Le port de Saint John est bien sûr plus bâti avec une vue sur le centre-ville.
Il y a une sortie à travers l'étroit chenal de navigation.
Voyage de Ferry de Saint John
Comme dans tout BAC, le voyage peut obtenir cahoteux.
Bien que vous peut assumer la péninsule permettrait de protéger les voies d'eau, ses réellement connus pour être très rugueuse.
Cependant mer malade, que vous pourriez obtenir, votre véhicule sera être en toute sécurité rangé au-dessous.
Le parking est à travers de la proue avant du navire.
Il y a le personnel à l'intérieur de diriger toute votre déménagement.
Ce n'est pas différent
pour tout autre ferry, en veillant à garder le navire équilibré comme tout le monde passe.
Le parking est double étages permettant une utilisation maximale de l'espace à l'intérieur.
Ses pas rare de voir des gens waling leurs vélos sur le ferry comme bien comme motor cycles et autres véhicules.
Certainement intelligent pour communiquer avec la compagnie ferry si vous êtes inquiet des limites.
Comment attraper le bateau
Les prix varient selon le nombre de personnes et de véhicules.
Dates et heures d'opération varient également selon la période de l'année.
Temps entre 9 h et 11 h ne sont pas rares pour ses une bonne idée pour coordonner avec leur horaire lors de l'achat d'un billet.
Conclusion Terminal de traversier
Ou va venir, c'est certainement une bonne option pour réduire les temps de conduite entre la Nouvelle-Écosse et du Nouveau-Brunswick.
Si vous s'apprêtent à moncton, Saint john ou des zones environnantes, peut prendre un certain temps à conduire jusqu'à 101 puis autour de 102 à 104.
Ouais il prendre de quelqu'un qui a été jusqu'à 101 suffisamment de fois, si vous avez les ressources et le temps, considérer cela comme une option.